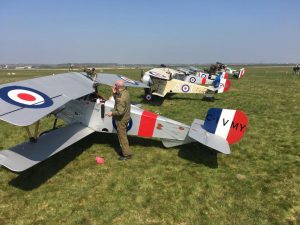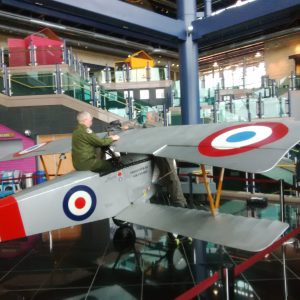 A replica of a Nieuport 11, French single seater First World War fighter plane from 1917 has landed at The Rooms.  This plane was part of the "Birth of A Nation Tour" a tour spanning the country from coast to coast, engaging with communities to commemorate "airplane" heroes of the past 100 year. The Rooms is the last stop on this tour.
This bi-plane was one of the aircraft  that flew as part of a commemorative flight over the Vimy Memorial  on the hundredth anniversary of the battle – April 9th, 2017. This aircraft also flew over Beaumont Hamel Memorial Park.
During the First World  War (1914-1918)  Newfoundlanders were determined that  'Our Boys'  who had signed up to fight for King and Country would be equipped as well  as any other country in the world.  St. John's newspaper headlines read "Give our Boys Aeroplanes". The St. John's newspaper the Daily Star read; "we have given ' Our Boys'  to the empire to do their bit. Let us equip them to do it as effectively as possible."
In 1915 the Patriotic Association of Newfoundland led a fundraising effort to supply aircraft for the war effort. The collection drive turned its attention toward an "Airplane Fund" to purchase warplanes for the Imperial forces. By the late summer of 1915, the fund had raised $53,000. The government immediately purchased two Gnome-Vickers airplanes, at a cost of roughly $10,000 each. After some discussion, the Patriotic Association decided to buy another airplane. Donations continued to come in and by 1917, five planes had been purchased for the British air services.
Aviation historians have identified at least thirty three (33) NL flyers, with some aces, medal winners and some truly unique experiences.  Five of the more celebrated flyers were Ronald Ayre, Howard Vincent Reid, Roy S. Grandy, John M. Melee and Carl Frederick Falkenberg.
Howard Vincent Reid joined the Newfoundland Regiment at the outbreak of the war and was one of the First 500.  After arriving in Britain he transferred to the Royal Naval Air Service and became the first Newfoundland Pilot. It is likely that because Howard had joined the Naval Air Service that his father Sir William Reid purchased an aircraft  for the Overseas Club.
Ronald Ayre was studying in England when war broke out. He earned his pilot's wings and flew in Europe. Awarded the Military Cross in 1917 (after two successful bombing missions), he gained promotion to Captain. After the war, he worked in the family business, Ayre & Sons.
Roy S. Grandy was born in Bay Largent, Fortune Bay, he enlisted  with the newfoundland Regiment in 1914 serving in the Gallipoli Campaign.  In 1916 he transferred to the Royal Flying Corps, his natural aptitude for flying eventually saw him being transferred to the School of Special Flying Gosport as a flying instructor.
John M. LeMee in 1915 left his job in the paper mill in Grand Falls and signed up with the Newfoundland Regiment.  He was one of the few survivors of Beaumont Hamel.  In December 1916 he transferred to the Royal Flying Corps. In April 1917 his plane crashed into the English Channel, he survived the crash and was awarded a testimonial from the Royal Humane Society for his bravery.
Carl Frederick Falkenberg DFC (2) was born in Botwood, Newfoundland.  In June 1917 he was seconded to the Royal Flying Corps, as a pilot and on February 28, 1918 joined Royal Air Force Squadron No. 84 in Flez France, flying SE5As at the start of the German spring offensive. On April 29, 1918 Falkenberg, shared, with another pilot, in the destruction of a German two-seater. Lieutenant Falkenberg was wounded a second time on May 10th 1918, when he crashed, but was soon back in combat. From May to August 1918, he served, as an instructor, in the original Canadian Air Force formed in England. On September 1st, 1918, he was awarded his first of two Distinguished Flying Crosses (DFCs).
His citation read in part as follows: "A bold and skillful airman who has destroyed four enemy machines and driven down four out of control." By October 20, 1918 he had destroyed a total of 14 aircraft and one balloon and was awarded his second DFC.  After WW1, he became a salesman for North American Life Insurance. At the outbreak of WW2, Falkenberg joined the RCAF as an administration officer, serving as Commanding Officer of 4 Training Headquarters, Calgary and at No.2 Initial Training School, Regina Saskatchewan. He died in 1980.
Do you know the names of any First World War flyers?  Love to hear from you.
What is happening at The Rooms?
Friday November 10th
1 pm Vimy Flight (VF) Team presentations in theatre.
Included with the cost of admission.
2:30 pm: Documentary Launch "Flightpath of Heroes" at 2:30pm in the theatre.
Included with the cost of admission.
This documentary presents historical information about the Battle at Vimy Ridge and it covers the modern day Vimy Flight teams' efforts to fly over the Vimy monument which happened this past spring. More information about the documentary can be found here: http://www.flight-path-of-heroes.ca/about.asp
3 pm Vimy Flight (VF) Team presentations in theatre.
Included with the cost of admission.
6:30pm Vimy Flight (VF) Team presentations in theatre.
Sunday November 12th
1 pm Vimy Flight (VF) Team presentations in theatre.
3 pm Vimy Flight (VF) Team presentations in theatre.
Included with the cost of admission.