ARCHIVAL MOMENT
December 4, 1856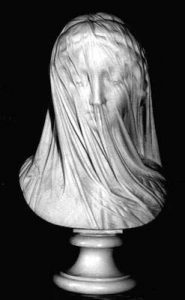 On 4 December 1856 Bishop John Thomas Mullock, the Catholic Bishop of Newfoundland, recorded in his diary:
"Received safely from Rome, a beautiful statue of the Blessed Virgin Mary in marble, by Strazza.The face is veiled, and the figure and features are all seen. It is a perfect gem of art."
The Veiled Virgin was placed in the library of the Basilica Cathedral Parish in St. John's until 1862, when Mullock presented the statue to the Superior of Presentation Convent.  His sister was a member of that convent.
This statue was executed in flawless Carrera marble by the renowned Italian sculptor Giovanni Strazza (1818-1875) in Rome. Other examples of Strazza's work may be seen in the Vatican Museums, Rome and in the city of Milan. The Veiled Virgin was described by the St. John's newspaper The Newfoundlander (4 December 1856) as the second such work by Strazza on the subject of a veiled woman.
The newspaper reported:
 "To say that this representation surpasses in perfection of art, any piece of sculpture we have ever seen, conveys but weakly our impression of its exquisite beauty. The possibility of such a triumph of the chisel had not before entered into our conception. Ordinary language must ever fail to do justice to a subject like this – to the rare artistic skill, and to the emotions it produces in the beholder. These themes are rather."
The Veiled Virgin remains in the care of the Presentation Sisters, Cathedral Square, St. John's.  It may be viewed by appointment.
Recommended Archival Collection: Search the online database for descriptions of our archival records at The Rooms and view thousands of digital photographs. See more at: https://www.therooms.ca/collections-research/our-collections
Recommended Archival Collection:  Presentation Congregation Archives –Cathedral Square, St. John's, NL 709-753-7291