February 24, 1919
In February 1919 many young men who had signed up to fight for "King and Country" were returning to Newfoundland and Labrador, many were welcomed home to friends and family with a party in the local parish hall.
Private Michael Ryan (20 years old) of Michael Sr. of Caplin Bay, (now Calvert) arrived home from France by the Corsican, he was home after two years of service having seen some of the most severe fighting of the war, but came through without a wound.
On Friday night (February) 14th the ladies of the harbor tendered Private Ryan a splendid reception in St. Joseph's School (Caplin Bay, now Calvert) .
JOSEPH Sullivan the Master of Ceremonies (MC) stood before the crowd and said:
   "With feelings of sincere joy and thankfulness to God we heartily welcome you home again. We feel proud of you, and this little reception, is only a slight mark of the honour due you, after putting in two years of constant danger and hardship, so that we may enjoy the privileges of Justice, Freedom and Liberty, which thank God through your and your numerous chums sacrifices have been preserved to the world and to us."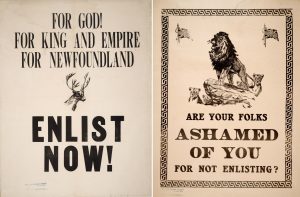 Everyone in Calvert was very aware that when Private Ryan left Calvert – he was with his good friend Charlie (Canning) they had left Calvert on the same day to go to the recruiting office in St. John's, February 8, 1917.
"We are glad to have you back again and our only sorrow, and we feel sure yours also, is that your poor chum Charlie (Canning) who enlisted with you, is not here tonight to share with you our joy, but God willed otherwise, and tonight he like so many others of Our, "Better than the Best" sleeps in a hero's honoured grave in France, a martyr to the Huns' frightfulness."
Standing at the podium Joseph Sullivan the MC for the reception said: "You can be assured that though absent you were never forgotten, and we may say that a continuous prayer for your safety was always on our lips."
He then presented Private Ryan with a purse, and gold watch and fob (chain) from the men of the men of Caplin Bay (now Calvert) as a remembrance of his home coming.
As he stood on the stage in the parish hall with the watch in hand he looked down at his family that included his father Michael (Sr) sister Hannah, 24, his sister Ellen Sullivan of Caplin Bay, his sister Bride Battcock of Brigus South, and his sister Julie Brine of Cape Broyle.
A man of few words Private Ryan said:
"Believe me my friends that tonight I feel more excited than I ever did at the sight of the FRITZIES  and on that account you must not expect much reply from me to your beautiful address. I can only say I did my plain duty and it was God's holy will I was to be spared to come home again. I am delighted to be back among you once more to "home sweet home," and from the bottom of my heart I sincerely thank you all. "
NOTE:  Fritz or Fritizies was also a name given to German troops by the British and others in the First and Second World Wars.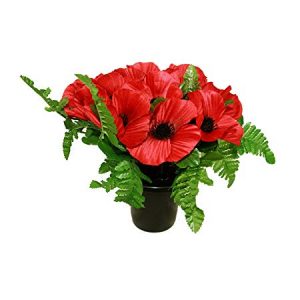 The Passing Over of Michael Ryan – They dropped red poppies in his grave.
Michael Ryan died in May 1955 his obituary read:
"War was the one episode in his life that took Mike away from his beloved Southern Shore."
For the rest , he lived at Calvert all his life and married (Bridget Clancy) there and raised a large family – Michael, James, Francis, Edmund, Helen (Clowe), Reverend William J.,  Reverend Kevin, Philomena Keough, Genevieve and Marie, Presentation Convent, St. John's.
His obituary reads:
" He was first a good provider and kind father. He was a kindly man to whom his neighbours came in trouble, a wise man to whom his neighbours came for advice – a just man who did the right by all men. For half a century he was part and parcel of everything worthwhile that went on in Calvert. He made to the growth and building up of that community the substantial contribution of good citizenship – and the great contribution of being a man of character doing the things that his place and times required of him."
A guard of honour of the Canadian Legion escorted the funeral cortege to the cemetery on the hillside towards Ferryland – and when the final prayer had been said and the Legion ritual read, dropped red poppies in his grave. "And they buried him among the fir trees where the hill slopes towards the broad Atlantic – within the sight and the sound of which he had lived all his life".
Recommended Archival Collection: Regimental Record: Michael Ryan, of Caplin Bay, Regimental # 3468 https://www.therooms.ca/sites/default/files/ryan_michael_3468.pdf
Recommended Archival Collection: Regimental Record: Charles Canning of Caplin Bay (Calvert) https://www.therooms.ca/sites/default/files/canning_charles_3466.pdf
Recommended Museum Exhibit: The First World War had a profound impact on Newfoundland and Labrador. Our "Great War" happened in the trenches and on the ocean, in the legislature and in the shops, by firesides and bedsides. This exhibition shares the thoughts, hopes, fears, and sacrifices of Newfoundlanders and Labradorians who experienced those tumultuous years – through their treasured mementoes, their writings and their memories. https://www.therooms.ca/exhibits/now/beaumont-hamel-and-the-trail-of-the-caribou