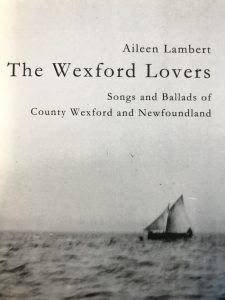 Songs and Ballads of County Wexford and Newfoundland
Date: Sunday, May 19
Time: 2:00 pm – 3:00 pm
Where: The Rooms Theatre
Cost: Included With Admission
Join us at The Rooms for a special performance by Aileen Lambert whose singing is rooted in the English language repertoire of her native County Wexford, Ireland. Many if the songs that she will sing are from her CD "The Wexford Lovers; Songs and Ballads of County Wexford and Newfoundland."  Traditional Songs sung in Wexford but also found in Fermeuse, St. Shotts, Fogo, Branch and other communities in Newfoundland.
Bring along the children too for this performance as a number of songs have accompanying actions and are guaranteed to get everyone moving and singing to the top of their voices. The first half of the concert will be centered on child friendly songs, where Aileen will be joined by her daughters Nellie (age 9), Eppie (age 6) and Nan (age 4) to perform songs with tall stories such as 'Paddy and the Whale' to songs of nonsense like 'Little Pack o' Tailors'. Nellie will also share her love of 'sean-nós' Irish dancing (gaelic for 'old-style').
Aileen and her husband Michael Fortune (folklorist/filmmaker) are currently spending a month based in the community of Branch, St. Mary's Bay, to record and document traditional song, folklore, customs and sayings.   To follow their activities and research check out  folklore.ie  or Aileen Lambert – Traditional Singer on FaceBook
An all-ages performance you won't want to miss.
First come, first served
 https://www.events.therooms.ca/Events/details/id/00002085