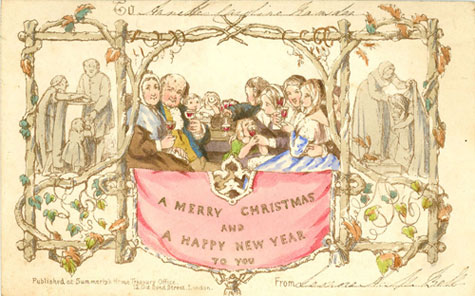 ARCHIVAL MOMENTS

December 2018
The local St. John's newspaper the Evening Telegram in an article on December 25, 1883 suggests that the first Christmas card was not introduced into Newfoundland until after 1868.  The newspaper reported:
"Even in the celebration of Christmas, what vast changes and improvements has Terra Nova seen within these fifteen years!  A  'Christmas Card'  was then (1868) utterly unknown, now what millions of them pass from 'hand to hand', wafting with pretty colors and gracious sentiments, the very spirit of the grand old season."
The tradition of sending commercial Christmas cards can be traced to 1843. A gentleman by the name of Sir Henry Cole had several problems that he was trying to resolve.
In the 1840's Christmas cards were very expensive; they were individually painted and delivered by hand. Henry did not want to have to contend with the expense and he especially disliked the idea of writing a personal greeting to each person. He also wanted the message on his Christmas cards to bring attention to the importance of supporting the destitute during the Christmas season
Then the answer came. It was a marriage of art and technology.
Sir Henry commissioned artist John Calcott Horsley to paint a card showing the feeding and clothing of the poor. It was a triptych with scenes on each of the side panels depicting the charitable essence of Christmas; feeding the poor and clothing the homeless. In the center was the message "Merry Christmas and Happy New Year To You" under a colorful drawing of a family celebrating, their wine glasses raised in a toast.
Sir Henry had good intentions, but his Christmas card design, showing a child enjoying a sip of wine, was described as "fostering the moral corruption of children."
Eighteen of the original 1000 cards printed  are known to be still in existence, one of which recently changed hands at auction for around $40,000.
Originally the custom  was not to post the Christmas Card but rather cards were passed from "hand to hand."
Recommended Archival Collection: At the Rooms Provincial Archives Division take some time to look at MG 63.356 – MG 63- 358 these files consist 125 Christmas cards produced by the International Grenfell Association.
The Rooms:   The Rooms is dressed for Christmas  – come and see our Christmas trees.
Send me a Christmas Card:   9 Bonaventure Ave. (P.O. Box 1800) St. John's ,NL . A1C 5P9   –  include some suggestions for Archival Moments.