Reception July 6, 2013, 7:30 p.m.
The Rooms
Here, We Made a Home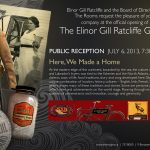 At the eastern edge of the continent, bounded by the sea, the culture of Newfoundland and Labrador's livyers was tied to the fisheries and the North Atlantic. A rich mix of dialects, ways of life, food traditions, story and song developed here. Shaped by the unique combination of location, history, and cultures – English, Irish, French, and Scottish – the gallery shares many of these traditions and stories. Some are personal and local; others reflect roles and achievements on the world stage. Running through most of them are qualities of perseverance and innovation, courage and generosity.
Join us tonight for the official opening!!