Archival Moment
July 8, 1879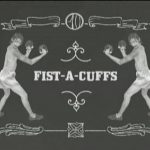 Bannerman Park, located on the north side of Military Road, St. John's  next to Government House and the Colonial Building has long been the home to  many events some planned some quite spontaneous. A place for lovers and fighters!
On the night of July 8, 1879 three young lads decided they were going to resolve their differences with a round of 'fist a cuffs' in the park.
A member of the constabulary walking about the city on his rounds was not amused that the "young lads" were up to their shenanigans. He was particularly not happy that they were causing the disturbance at 11:30 at night!!
The next morning the three lads found themselves in the docket before Judge Henry Renouf.
The St. John's newspaper 'The Telegram' reported that the three were charged with practicing "the noble art of self-defense."
They were cautioned and discharged.
Bannerman Park is however best known as scenic setting for courting lovers in St. John's.
In 1947, Douglas Black, a sailor on the Royal British Navy vessel HMS Sheffield, arrived in St. John's. Walking through Bannerman Park, he met 17 year-old Adelaide Byrne of Placentia Bay, who had also just arrived in the city. During the ship's ten days in port, the two regularly met Bannerman Park before eventually losing touch after the ship's departure. In 1990, 70 year-old Douglas Black placed a letter in The Evening Telegram, hoping to find Ms. Byrne once again. The letter reached her brother, who informed him that, sadly, Adelaide had died of tuberculosis two years after his ship left St. John's
Bannerman Park takes its name for Governor Alexander Bannerman, who in 1864, donated land in the vicinity of Government House for a public park for the use and enjoyment of the citizens of St. John's.
In April 1887 city officials began to seriously consider what to do with the land that had been left by Governor Bannerman.   In 1891, the City of St. John's funded the design and development of the Park as a formal Victorian Garden.
The rest is history evolving.
Recommended Reading: Stories About Bannerman Park: http://www.bannermanpark.ca/stories/
Recommended Action:  Support the Garden of Memories in Bannerman Park:  People who enjoy the park can contribute to the park's revitalization through by sponsoring various fixtures, flower gardens, and commemorative granite stones, which will be used for the pathways in the Garden. For more information: http://www.bannermanpark.ca/the-garden-of-memories-open-to-the-public/
Do you have a story to tell about Bannerman Park?